TARC Wapack & Back 50
I knew this race was going to be a tough one considering the terrain, elevation profile, and the fact that I had a big double race weekend less than a month prior, but I felt confident and strong before race day. But still this Saturday's race was much harder and required more grit than I anticipated. It was brutally perfect.
The TARC Wapack & Back trail races take place on the 21.5 mile long Wapack trail from Ashburnham, MA to Peterborough, NH. It varies in technicality with some grueling rocky climbs and descents, super technical single-track, but also some runnable fire roads and ATV trails mixed in between. The trail traverses the Wapack Range starting from Watatic Mountain (1,831 feet) to North Pack Monadnock (2,276 feet), with some other peaks in between. It is marked with yellow triangles and there are no additional markings on race day, so quite often runners add on some bonus miles. The race consists of a 21.5 miler starting from the northern terminus, a 43-miler out and back starting and finishing at the southern terminus, and a 50-miler which is an out and back of the trail plus another 7-mile out and back requiring runners to cross the finish line, then head back out over Mount Watatic yet again, then back to the finish. 50-mile runners have the option to drop at mile 43 and still receive a finishing time which makes heading back out for those last 7 miles even tougher. The 21.5 mile race has 5,000+ feet of gain, 43 miler as somewhere around 9,500 feet and 50 mile has 11,000+ feet. Last year I ran (and won) the 21.5 mile race and immediately upon finishing knew I had to come back from the 50!
Feeling strong and given the small field of runners, I had a good feeling about how the day would go but really anything can happen at a long distance event, especially on this type of terrain. The women's course record set by badass east coast trail and ultrarunner Kristina Folcik was 10:53 and I knew that if I was on my A-game and everything went well I could at least get close to 11 hours. Breaking the course record seemed like a stretch but I'd be lying if I didn't say it was on my mind. My husband was also running that day, his first 50-miler, but a different race. He was running Manchester to Monadnock which starts in Manchester, about an hour from my start, and finishes at Monadnock State Park, 20 minutes from my finish. His race started an hour earlier than mine so the plan was to spend the night in Manchester, drop him off at the start, drive an hour to my race, run 50 miles, then drive to his finish line to pick him up. Totally normal right?
The night before the race we stayed at a hotel in Manchester, NH with a friend who was also running the same race as Jeff. I got very little sleep, lots of tossing and turning, and waiting from the 2am alarm clock to go off. Jeff's race started at 4am and our friend ended up bringing him to the start, so before 3:30am we were checked out of the hotel and I was off to my own starting line. I got there about 45 minutes before the 5am start. Plenty of time to swim in a wave of nerves. It was perfect running weather. A little cool but completely dry. Rain was forecasted for the day but after running Boston this year, a little bit of rain was not a worry, although given the fact that these trails are treacherous in dry weather, I knew rain would slow things down a bit. Jesse Veinotte gave a short speech about handing his role of race director over to Christopher Agbay then a quick countdown and we were off. Not too long after the start, there is a few wooden planks you have to navigate to avoid getting wet feet and no one seemed to want to run ahead of the pack, so I took that role. So I guess you can say I lead the entire race for the first 3 minutes! Then a couple male runners went ahead. The first mile of the course climbs around 700 feet up to the Watatic Summit, then takes a sharp turn back down onto some technical but then very runnable trails. Knowing that the first 4.5 miles were pretty easy and there were a lot tougher sections to come, I started out at a faster pace than I normally would at a such a long race. My first two 50-milers I ran very conservatively the first 30 miles or so, but if I wanted to get anywhere near 11 hours at this race, I was going to have to run when I could and take a bit of a risk. After the turn at the top of Watatic, just below the actual summit, I yelled out to a couple of runners who were heading off the in the wrong direction, then ahead I saw some runners that I knew were not ahead of me before. A pretty big group of runners must have accidentally cut across the trail, skipping about a tenth of a mile and 100 feet of climbing. A really easy mistake to do, especially since it was dark, but super frustrating. I angrily thought "great if people are going to be cutting the course all day, I'm going to have to run extra fast". I took my anger out on the Watatic descent to get ahead again. By that time the sun was up and the sky blew up with amazing pink and red colors. I took a moment to breath, be thankful for that sunrise, and remember that this is mile 1 of a 50 mile race. Focus on yourself!
One of the runners I had saved from a wrong turn at the summit caught back up to me and we chatted for a bit over the next couple miles. He had run Grindstone 100 last year in a little over 24 hours which is a stout time on that course and was running UTMB this year. Since I'm running Grindstone this year as my first 100, I picked his brain a bit about the race and he had such great things to say which was comforting. We got to the Pratt Mountain climb, my least favorite climb of the course because it is the first steep climb and feels never ending. Plus there are no views at the top unless you take a detour trail to the side. I actually felt stronger than I usually do on that climb, but then I turned around to see the second place female down below. Thanks to pre-race ultrasignup stalking, I knew she was a sturdy, experienced runner and she's done the 50-miler before, so if anyone was going to give me a run for my money (or prize yeti) that day it would be her. She also had trekking poles so I just imagined her as this robotic powerhouse cruising up all the hills while I was hands on knees climbing. But nonetheless, I tried to remain focused. My Grindstone friend went in the wrong direction again and I called him back over. He would get ahead a little bit on the climbs and then I'd catch back up on the downs and flats. Before the first real aid station at Windblown (mile 9) there is nice long downhill and some runnable rolling cross-country trails. It was so nice to take a mental break from trying not to trip and it was warming up so I was able to take my rain jacket off and put it in my pack without stopping. Since this section was flatter I was able to look behind me and see that there was no one was there, which gave me a bit of relief. Now it was time to slow down a little bit and relax. Right before Windblown, "Grindstone guy" which I kept referring to him as in mind, almost took another wrong turn and then immediately after the aid station he started to go the wrong way. I told him I was going to have to start charging him for my help! The next few miles after Windblown are pretty easy. Mostly flat, a couple small, muddy water crossings, and even a little bit of dirt road. I took advantage of these miles but also held myself back a little bit. I used the easier terrain to move things around in my pack and refill my water bottles with Skratch while not really slowing down or stopping. Every second mattered! After the dirt road sections, there's a bit more pine needle soft trails before exiting onto a slightly uphill paved road. Another section where I could turn around and see no one was behind me still. PHEW. Then you take another turn back into the woods where things get rocky and steep again. After a few miles of consistent running, I actually welcomed the next power hiking worthy climb. One reason why I love these types of courses is because of the back and forth between climbing, descending, and easy running. I'll take a good climb over flat running any day! Around mile 14 you hit Temple Mountain (2,044 feet) and then you come out onto a long downhill dirt road. Not a hard packed dirt road. A dirt road with big divots and lots of loose rocks. Grindstone guy, who I had been just a few steps behind this whole time, took off down ahead and I tried to slow myself so I didn't fall on the little ankle twister rocks but as soon as I stopped trusting my footing, down I went. Both knees straight into the ground, and then a nice tuck and roll. I thought he would've heard me but he didn't and I embarrassedly hopped right back up and started running again. My knees burned like hell and for the next bit of downhill I was running like a newborn horse. My legs felt super wobbly and unstable. I thought back to my hard wipe out at my first 50 and how just continuing to run made me feel better, so I just kept going. The Miller State Park aid station (mile 16) was just a short ways away. When I got to the aid station, Grindstone Guy was gone and I had a feeling he made another wrong turn. I didn't look down at my knees, but the volunteers asked if I needed first aid so I knew it wasn't pretty. I filled my bottles and immediately got back out.
Going into the race I knew the miles between the Miller State Park aid station, which is at mile 16 and mile 26ish, where going to be the toughest. They have the most climbing and are the most technical. There is zero easy running in this part and the trail passes over the two tallest peaks on the course, Pack Monadnock (2,290 feet) and North Pack Monadnock (2,277 feet). Then after the 21.5 mile turn around and you have to do it all over again. I was mentally prepared for some slow miles, but one thing I did do to get my focus off of time and moving pace was to change my watch face so it showed accumulated elevation gain. When you're moving that slow, it's nice to see your total amount of climbing increase. It reassures you that the reason you're moving so slow is because you're doing all this climbing. The first big climb after the aid station is really rocky and steep, and I just kept bashing my knees into the rocks. I couldn't help but laugh. I'm barely a 1/4 through the race and I am covered in blood and dirt, and it hasn't even started to rain yet! The miles were a bit of blur after that because I was so focused on my footing and "power hiking with a purpose" as I kept calling it. At the top of each summit there would be a group of hikers and I could only imagine what they were thinking when this tiny blood covered woman ran through. I kept checking my watch to see what the time of day was. The 21.5 mile race starts at 9:00am and I was looking forward to seeing my friends blast by me in the opposite direction. The last couple miles of the northern end of the Wapack Trail are mostly downhill, but pretty technical. I had so much FUN during those miles and thankfully my knees felt great. My spirits were high as I awaited the 21.5 milers to appear. Finally I could hear them coming and they seemed equally as excited to see me. I'm pretty new to leading a race, especially at something this long, and damn did it feel good to be up front when they came by. My friend Ben Thompson, technical downhill extraordinaire, yelled "Samantha, you're flying!" which felt good but at the same time it made me think "oh shit, maybe I'm taking these downhills a bit too hard!". I got a lot of "yay first woman!" from complete strangers and saw a couple other faces I recognized. Even though it was so early in the race, I couldn't help but smile huge. After passing all the 21.5 milers, I saw the first, second and third place male for the 50 coming in the opposite direction after leaving the turn around. I was surprised to see that there were only a few males ahead of me and they weren't that far ahead. The Mountain Road aid station (mile 21.5) is the only time I really stopped that whole day. I had my one and only drop bag there so I emptied all the trash from my vest and reloaded nutrition. I also retied my shoes, which were starting to loosen up, and tossed some body glide in my pack because I could feel a hot spot on the bottom of my right foot. I didn't apply it because I didn't want to take off my shoe and sock, but I brought it in case I had to stop later. The volunteers informed me I was first female and 4th overall, and I asked "well most importantly, am I the bloodiest so far?" and I was, woot! Ironically the 50 mile course my husband was running at that time passes through that spot as well and I actually saw a couple M2M runners come by while I was tying my shoes. No time to wait for him though, I was off again. Also should mention here that my A-goal was to do each 21.5 mile section (south to north, the north to south) in about 4hrs 30 minutes each way so I'd get back to the start around 9 hours. Then I'd have 2 hours to do the last 7 miles to make it in under 11 hours (2 hours sounds like a lot of time for 7 miles but remember thats two Mount Watatic traverses!). I made it to the turn around in 4:22 which is only 1 minute slower than when I did the 21.5 mile race last year. Granted the 21.5 miler course is in the opposite direction has a bit more climbing and is a little slower, but damn. I was definitely cruisin'.
Now is where things get interesting. That downhill that I just had a blast running down, I had to climb back up. Seemed a bit longer than I remembered and less than a mile from the aid station I saw the second place female and not too long after that I saw the 3rd. Seeing them was a reminder to not become complacent and to keep pushing. I also passed by Grindstone Guy in the opposite direction and apologized for not being able to save him from another wrong turn! Those next few miles seemed soooo slow but I expected it after last year's race. The great thing about an out and back race is that you know what's ahead. I knew I just needed to hang in there until the Miller State Park aid station again and then I would have some easy miles. But that didn't stop everything from hurting. The bottom of my right foot felt like I was walking on fire, my left sciatic nerve (which I've been having issues with for the last month or so) had been hurting off and on but now my piriformis (muscle on top of your sciatic nerve) on both sides was starting to hurt. I was starting to feel the effects of all the climbing and I wasn't even half way done yet. Normally when the pain rolls in earlier than anticipated the voice in my head starts telling me "you started too fast, you aren't trained enough, what were you thinking, you're never going to make it" but instead this time I kept thinking "this hurts because it's suppose to hurt, embrace it". To add to the drama, it started to rain. Just a light rain, but within minutes once dry rocks became a slippery mess. "This is what you wanted, this is what you asked for, this is what you trained for, keep pushing!".
Some more blurry miles of focusing hard on not falling on the downhills, staying positive and making every footstep matter. My A-goal of sub 11-hours had slipped away at this point because with how slow I felt like I was moving, there was no way I was still on pace for that, so I focused on my B-goal with was first female and C-goal, finishing top 3. "You can only do your best and your best will be good enough". I felt like I was keeping up with nutrition well but I was feeling a bit foggy. I started to hear the click clack of the second place woman's trekking poles but turned around to nothing. I saw a black bear that ended up being a tree stump. Each time I would hysterically laugh after (what did those aid station volunteers put in my water???). At some point during one of the climbs a male 50-miler passed me. Usually I don't give a fuck about the men's field at a race, but "5th overall" didn't sound as nice as 4th. I let him go because he was running a lot of the ups which I knew was not sustainable for me. The finally descend down to the Miller State Park aid station involved a lot of sitting on big boulders and hopping down, but I managed to stay upright on the slippery rocks and that was most important. I jokingly said to the volunteers "just a little bit bloodier this time" and took off again. It felt awesome to be out of that damn park.
Climbing up the hill that I had fallen down earlier, I made sure to give a nice middle finger to the spot where my knees made a crash landing earlier. My head was still a little bit foggy, I was still hearing things and I saw another "bear" which freaked me out a little because I've never had that happen before, but I felt like I was eating enough food and I was moving strong so I just continued to chuckle to myself about it. Again, these miles all sort of blur together but I remember the long downhill until you hit the paved road. At the bottom was 5th place who didn't know which way to go so I yelled "turn left"! Jeez people, good thing you have me around! I waited until this moment to look at my overall pace. Course record pace was around 13:00 minutes and sub 11-hour pace was around 13:15. My average pace after finishing the toughest part of the race was 13:25 and also I was on mile 31 when I thought I was on mile 29. This called for a big "fuck yes!" out loud. I still didn't feel like this was an appropriate time to "drop the hammer" but I did pick up the pace a bit. Back on the easy pine needle trails and a bit of dirt road to the Windblown aid station (mile 34). It felt good to actually run again and to be back at that aid station still in the lead. The next mile or so is mostly downhill and then there's a long uphill stretch. The rest of the trail I had a run a few times before and I knew there was nothing too crazy ahead, but I still wanted to hold back a little until I hit the Binney Hill aid station (3.5 miles from the start/finish and 10 miles to go). After the long uphill, my legs were starting to feel it again and my stomach started to get sick of the sugary sweet gels, bloks and Skratch I had been using. I stopped using Skratch and just stuck with plain water but I still forced myself to eat the gels and bloks. "If you puke, you puke, but you gotta eat something". The next few miles I was so focused on just getting to Binney Hill that I had a hard time even mumbling a "hello" to 21.5 milers I was passing. Again, some more blurry miles. This the first race where I was so focused on what I was doing that miles were lost and I often would look down at my watch and be a bit further ahead than I thought. The wet, slippery rocks certainly helped with that intense focus! The Pratt Mountain climb that I hated so much at the beginning was now a super fun downhill. There was a huge pack of 21.5 milers tip toeing down and I just yelled from far behind, COMING THROUGH PLEASE. So much life was brought back into me from that downhill. I caught up to 5th place and now we ran together for a little bit and chatted. It felt good to talk to someone again after hours of being alone. As we got closer and closer to Binney Hill I started to ramp up the pace. My stomach was doing back flips at this point so my second motive for getting back to the start/finish was to use the porta potties. Running up to Binney Hill aid station brought me back to last year's race. With 10 miles total to go, now it was game time. I ran right by the aid station, ahead of 5th place. Running up to Watatic south bound felt great. Most of the climb going up that side is pretty runnable and not very steep. Heading down the other side was much harder. The rain made everything so slick and knowing I had to do this all over again made me proceed with extra caution. Towards the bottom of Watatic I saw the first place male running in the opposite direction. He looked amazing and yelled "first female! 3rd overall!".. Wait 3rd overall??? At some point when passing a group of 21.5 milers, I must've passed a male 50 runner as well. Woohoo! Running into the start/finish it was hard to contain my excitement and I just wanted to get right back out there for the last 7. I got back to the start in 9:16 so I had roughly an hour and 45 minutes to run 7 miles for an 11 hour finish. Course record still seemed off the table. As I was asking a volunteer to fill my bottle with coke, which I never drink but I needed something other than gels and bloks, Ben Thompson excitedly asked if I wanted a pacer. I thought about it for a second because I would've loved to run with him, but a) if for some reason I did break the CR I wouldn't feel right using a pacer to do it, b) I've never used a pacer before so why start now, and c) I don't plan on using a pacer for Grindstone. So I apologetically replied no. As I was taking off the race director wanted to tell me something so he ran with me for a sec and as he was talking, the coke in my water bottle in my vest shot up into the air and drenched my gloves and vest in stickiness. It was quite hilarious.
I was riding a huge surge of adrenaline now. Albeit exhausted and heavy, my legs pretty damn good and any pain I had been feeling was gone. I felt like a whole new person. The climb back up to Watatic wasn't nearly as painful and slow as I expected. Now I was starting to do the math and the course record was back on the table. "This is what you wanted, this is what you asked for, this is what you trained for, keep pushing!". I forget when I saw the second place female again but she was a couple miles behind, which meant about 4 miles behind with the turn around included. Now all that mattered was that course record. As I ran by the first male who was on his way to the finish now, he said "you may even catch up to second!" and sure enough, as I got close to Binney Hill again, there was second place with not one, but two pacers, walking and eating a banana. He seemed a bit surprised to see me and picked things up after that, I never caught him. At the Binney Hill aid station, I was freezing after that bit of downhill so I asked a volunteer to grab my jacket from my pack for me. I started to run off again but then turned around and said "wait, am I supposed to do something else?" and they laughed and said "no, keep going!". Looking at my watch I was averaging about 10 secs per mile under course record pace but I was still worried about potentially wiping out again and not making it. I ran the last 3 miles like a 5k, just how I ran them at last year's 21.5 mile race, well.. same effort but a bit slower! At the top of Watatic I let out a huge sigh of relief and started heading back down. I now had 22 minutes to run a mile to make it under the course record. Seems easy enough, but that last mile was so treacherous after hours of rain. I would start crying then tell myself, "stop doing that, it's not over yet!". Seeing the ACTUAL FINISH LINE ahead was the best feeling in the world. The first thing I said after crossing was "did I break the course record?" and Jesse said "well Kristina's is 10:53?" and Jesse's wife said "her time was 10:43!". It was official.. I did it! After finally using the porta-potty I thanked everyone then apologized for having to run (not literally) out of there to get Jeff from his race. I got back to my car and received a text saying he was actually heading my way thanks to his friends and thats when all the emotions finally came out and I cried like a baby sitting my car.
As I said at the beginning, Saturday was brutally perfect. I've never pushed so hard at long event like that before. I took some risks, but I also remained smart, focused and composed. The pain came early as expected when running on that type of terrain at that kind of effort, but I welcomed it and stayed positive when things got really hard. I also still had fun even though I felt like I was racing the entire time and never really let my guard down. I know the things I need to work now before Grindstone 100, but I mostly just feel so excited. I am so proud of what I accomplished at this race. Setting a course record on a mountainous course with over 11,000 feet of gain, set by someone that I absolutely admire, I still am in just disbelief. Wapack is proof not just that my hard work over the last couple years is paying off but that that type of terrain is where I shine the brightest. I was told after the race by one runner that I looked like I was floating and by another that I looked like a tiny child in a candy store. Regardless of how I felt, I was just so happy to be on those trails. I have so much more to learn and this is just the beginning, but a damn good one.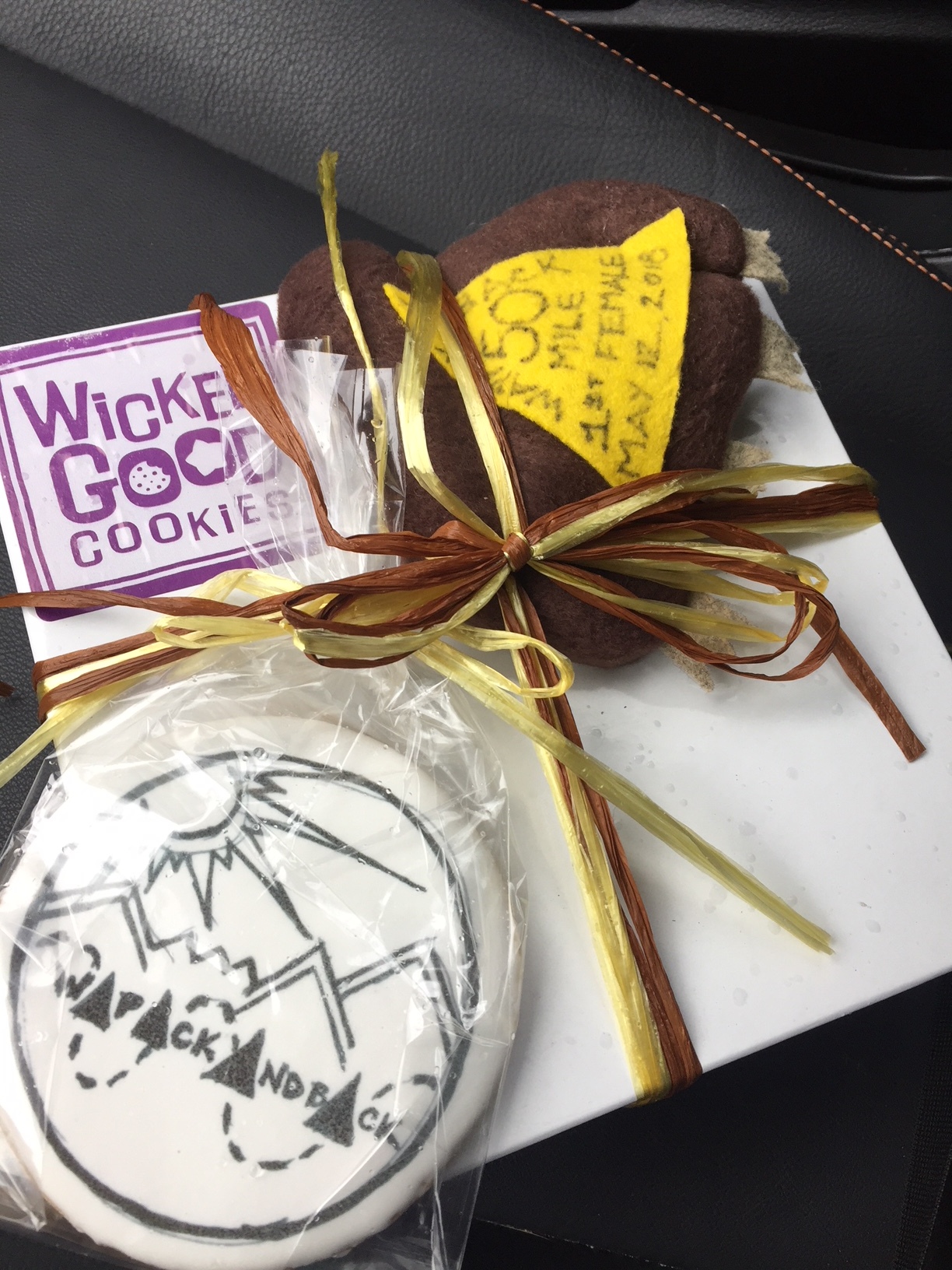 Thank you so much to Jesse and Christopher for putting the race on, to all the volunteers and to Carolyn for the yeti I was so proud to take home! Thanks to my coach, partner, friend and mentor Scott Traer for all of his words of wisdom and for his amazing guidance and training that has helped me with all of my successes so far this year. And most importantly, congrats and thanks to the best husband in the world for putting up with my pre-race tantrums amongst dealing with his own, and for having an amazing race himself at his first 50 miler! I'm so proud of him!!
https://www.strava.com/activities/1567943904/overview